The Tools Your Business Needs to Succeed are Available in Windsor, CT
Whether you have a landscaping business in Hartford, CT, or a home improvement contracting business in East Hartford, Mitchell Selig Ford in Windsor has the powerful, capable, and versatile commercial trucks and vans you need to succeed. The members of our commercial sales team are experts in Ford brand models of all sizes and shapes. We help small and large businesses throughout the area achieve their goals, and we're ready to help you find your perfect fit.
Legendary Ford SuperDuty Power
When nothing but the best and the strongest will do for your business, the Ford fleet of heavy-duty SuperDuty trucks is ready to step in. From the Ford F-250, which is powerful but still easy to drive and maneuver in West Hartford traffic, to the massively capable Ford F-450, there's a Ford work truck that's just right for your needs, and we can help you find it.
Ford F-150. Perennially popular for families and businesses alike, this truck is available in multiple cab configurations, trims, and engines, making it a versatile choice. Plus, it can tow upwards of 8,000 pounds, making it useful as well.
Ford F-250 SuperDuty. Larger and with a higher utility rating than the F-150, this truck is a great option for businesses that require a little more oomph. Customizable with various trim, engine, and cab options, this truck can manage more than 15,000 pounds towing and more than 4,000 in hauling and payload ability.
Ford F-350 SuperDuty. When you need a workhorse that can manage your heaviest loads, the F-350 is ready to take charge. Customize your cab and trim level, and get more than 20,000 pounds of towing capacity, depending on your configuration.
Ford F-450 SuperDuty. Available in multiple sizes and heavy-duty configurations, including various wheelbase and cab options, this is a truck with an available best-in-class 475 horsepower rating and a towing capacity of more than 35,000 pounds, depending on your customization choices.
Versatile Ford Transit Vans
When you need all the strength and power of a Ford engineered vehicle, but your business doesn't require the services of a heavy-duty truck, the Ford Transit lineup of vans is a great solution. Highly customizable, these vans come in various sizes and capabilities, with the versatility and ability to come custom ordered to suit your specific business needs.
Whether you need to shuttle a lot of passengers, or haul a lot of cargo, there's a Ford Transit configuration that works for you. Don't see the perfect solution for your needs right now? Reach out to our team to learn more about the entire lineup and to get help ordering and customizing yours soon.
Ford Transit Connect. Practical and compact, this van can be outfitted to suit your needs, and it's a smaller size, which makes it ideal when you need to navigate city traffic or park in tight spots.
Ford Transit. Larger than the Transit Connect model, this van is configurable for either cargo or passengers, and can be outfitted with different wheelbase options, different interior configurations, windows or solid walls for the rear, and much more.
Discover Your Ford Commercial Dealership in Windsor
As the local dealership destination specializing in Ford brand quality and engineering, we're proud to help our customers discover their next vehicle, whether it's a commercial grade truck, cargo van, or SUV. Browse our collection online to learn more and to get started on your journey towards a new Ford vehicle. When you're ready to take the next steps and buy or lease the Ford model of your choosing, our dealer in-house finance team is ready to step in and take over. We look forward to working with you soon to help you get the most out of your commercial vehicle investment.
Find Commercial-Grade Work Trucks at Mitchell Selig Ford
As capable and hardworking as any Ford F-150 or other F-Series truck you'll find in our showroom and lot at Mitchell Selig Ford, sometimes you need something that delivers commercial-grade capabilities. With that in mind, explore the extensive lineup of commercial- and work-grade trucks and vans that we have for sale. Passenger and cargo vans, tough and rugged upgraded Super Duty trucks and chassis cab and cutaway setups are all available through us and buying Ford means you're investing in something tough, hardworking and long-lasting. Get in touch today or head over to Mitchell Selig Ford right now to get started.
Ford E-Series Cutaway
Available with a variety of prep packages for a motorhome, shuttle bus, school bus or even an ambulance, the Cutaway van series is ideal for anybody shopping for a municipal or large business need. Top-end capabilities with Ford's legendary construction, engineering and design work give you untold levels of confidence with these commercial-grade vehicles.
Mitchell Selig Ford is Ready to Work With Your Business
Buying vehicles for individual uses is quite a bit different than a business or municipality purchasing any of these work-grade trucks and vans. We here at Mitchell Selig Ford are specially staffed to handle all kinds of sales, maintenance, service and other issues that arise. We'll answer all your questions about customizing your Super Duty truck or Chassis Cab, ordering special parts and equipment you may need, and finding the right replacement parts and accessories for your current work vehicles. Get in touch today and see how buying commercial from Mitchell Selig Ford is the way to go.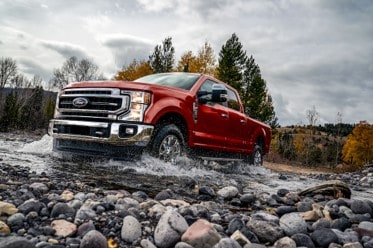 F-250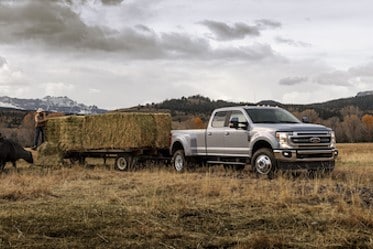 F-350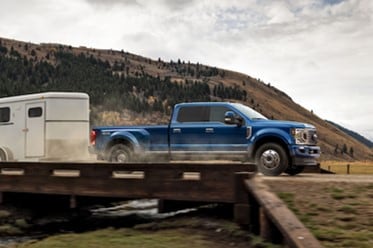 F-450
Make an Inquiry
* Indicates a required field